Carrot Cake
The most easy, healthy, simple and delicious cake
A cake that contains carrots mixed into the batter. Most modern carrot cake recipes have a white cream cheese.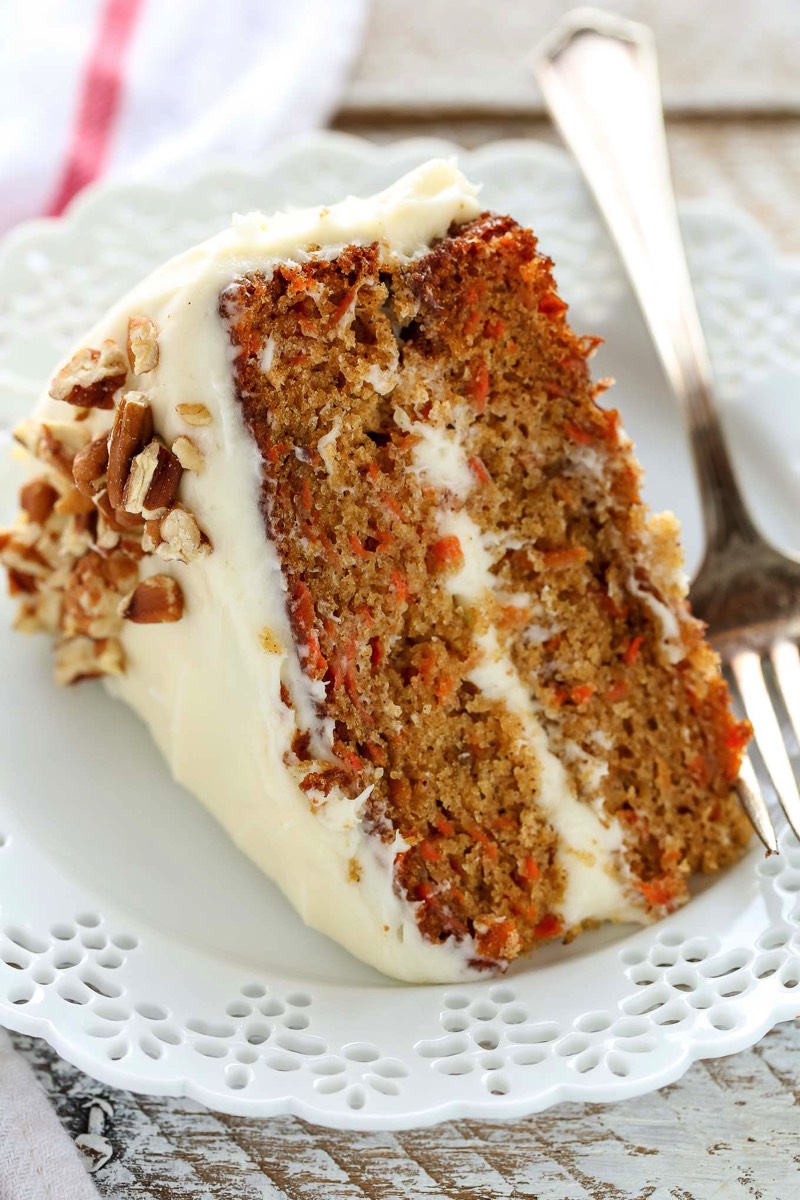 Carrot cake and its precursors took several forms including baked in pastry, like pumpkin pie steamed and served with sauce, like plum pudding baked in pans and served with icing.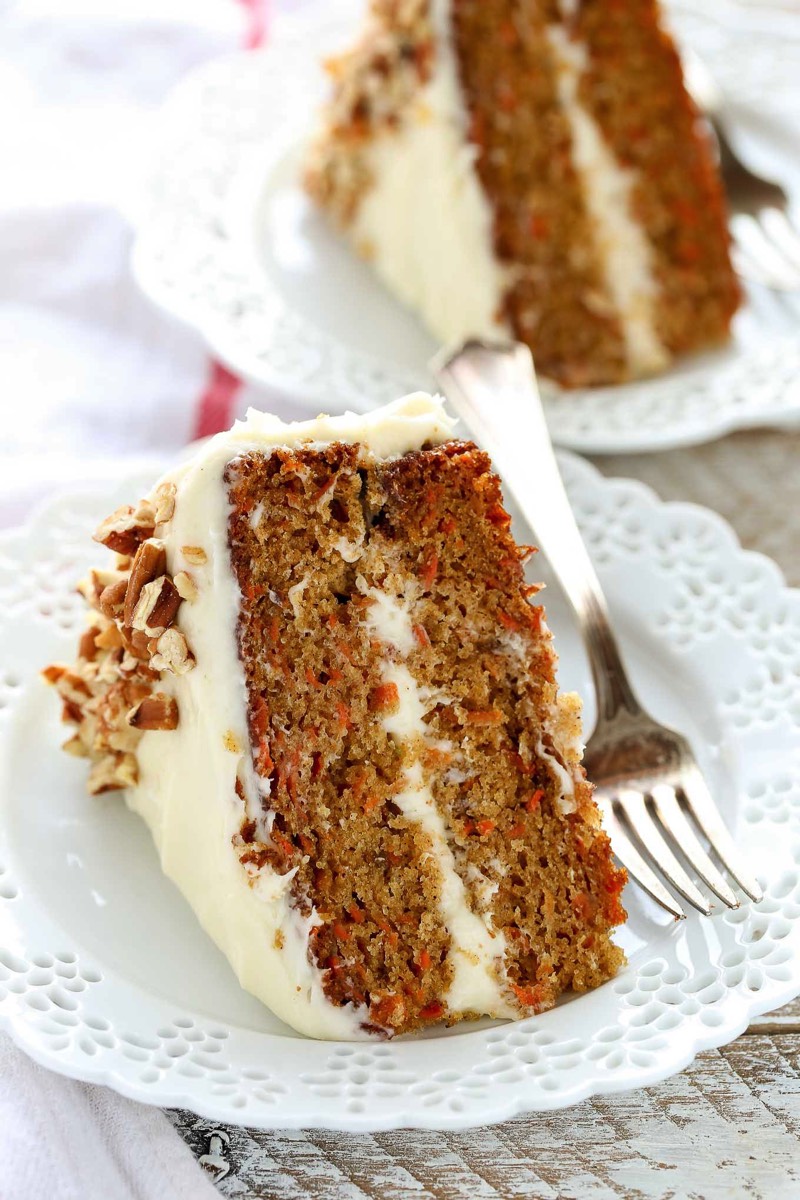 The origins of carrot cake are disputed. Published in 1591, there is an English recipe for "pudding in a Carret(sic) root" that is essentially a stuffed carrot with meat, but it includes many elements common to the modern dessert: shortening, cream, eggs, raisins, sweetener (dates and sugar), spices (clove and mace), scraped carrot, and breadcrumbs (in place of flour). Many food historians believe carrot cake originated from such carrot puddings eaten by Europeans in the Middle Ages when sugar and sweeteners were expensive and many people used carrots as a substitute for sugar. Variations of the carrot pudding evolved to include baking with a crust (as pumpkin pie), steamed with a sauce, or molded in pans (as plum pudding) with icing.
Speaking of which, the additions can be the subject of some argument. While raisins are undoubtedly the oldest complement to carrots, many modern palates prefer pineapple, apples or applesauce; sometimes walnuts, sometimes pecans, sometimes no nuts at all. These add-ins are the choice of the baker and the preference of the eater. The cake's mild but distinct flavor has made the cake an enduring favorite: while few would think of it as fashionable, it's considered a timeless classic that never goes out of style.
The popularity of carrot cake was revived in the United Kingdom because of rationing during the Second World War.
INSTRUCTIONS
HOW TO MAKE CARROT CAKE

To make this homemade carrot cake recipe, simply:

Prep your baking pans. Grease and flour three 8-inch round baking pans. (Or save yourself a step and just use baking spray, which already includes flour.)

Make the cake batter. Mix together the oil and sugars, followed by the eggs and vanilla, then the dry ingredients, and then the shredded carrots.

Fill and bake. Portion the batter evenly into your three baking pans. Bake for about 25-30 minutes, or until a toothpick inserted in the middle of the cakes comes out clean. Remove the cakes from the oven and let them cool on a wire baking rack until they reach room temperature. Meanwhile…

Make the frosting. See notes below.

Assemble and frost the cake. Once the cakes reach room temperature,* use a cake leveler or a bread knife to slice off the rounded tops of the cakes so that they are completely flat on top. Place the first cake on your serving platter, add a large scoop of frosting on top of it, and spread the frosting so that it covers the cake evenly and extends a bit over the edges. Repeat with the second and third layers of the cake. Then use the remainder of the frosting to frost all around the side edges of the cake.

Serve and enjoy. Then once you're ready to serve the cake, slice it up and enjoy!

*I find that it's easier to frost the cakes when they are
slightly
chilled. So I recommend popping them in the fridge for 15 minutes before frosting if you have the time.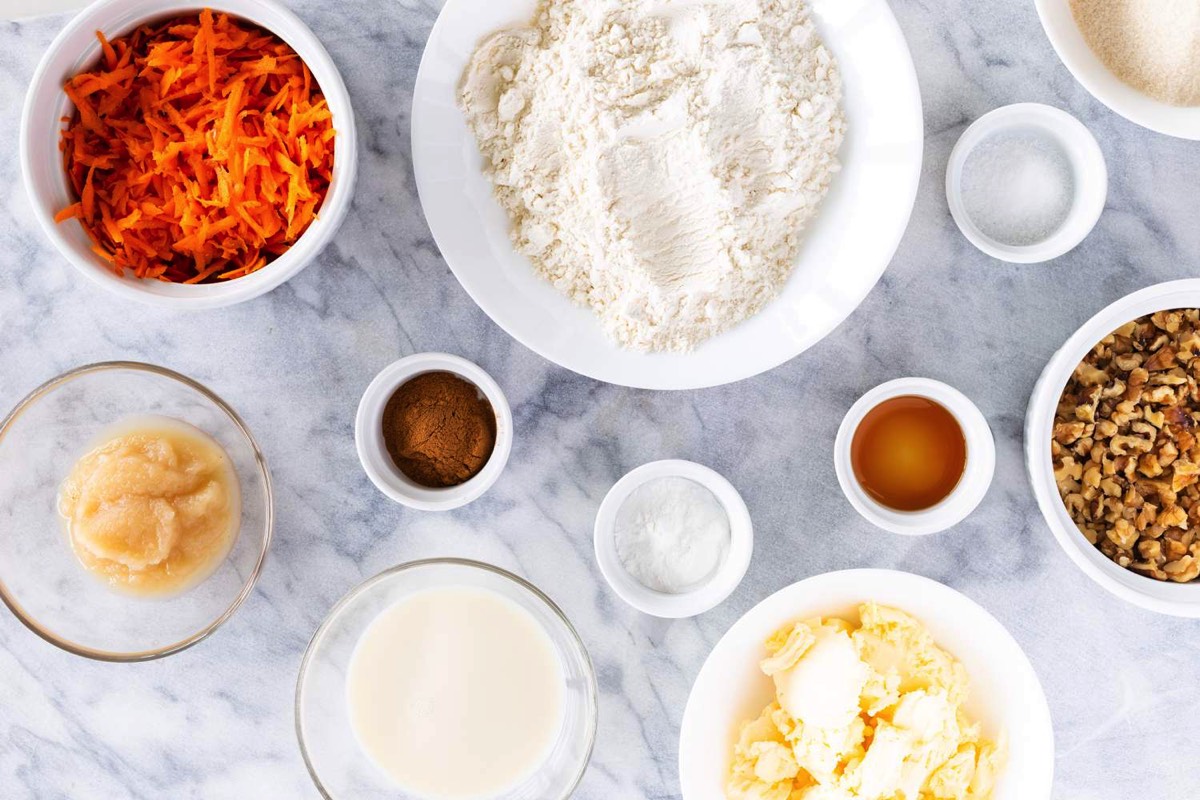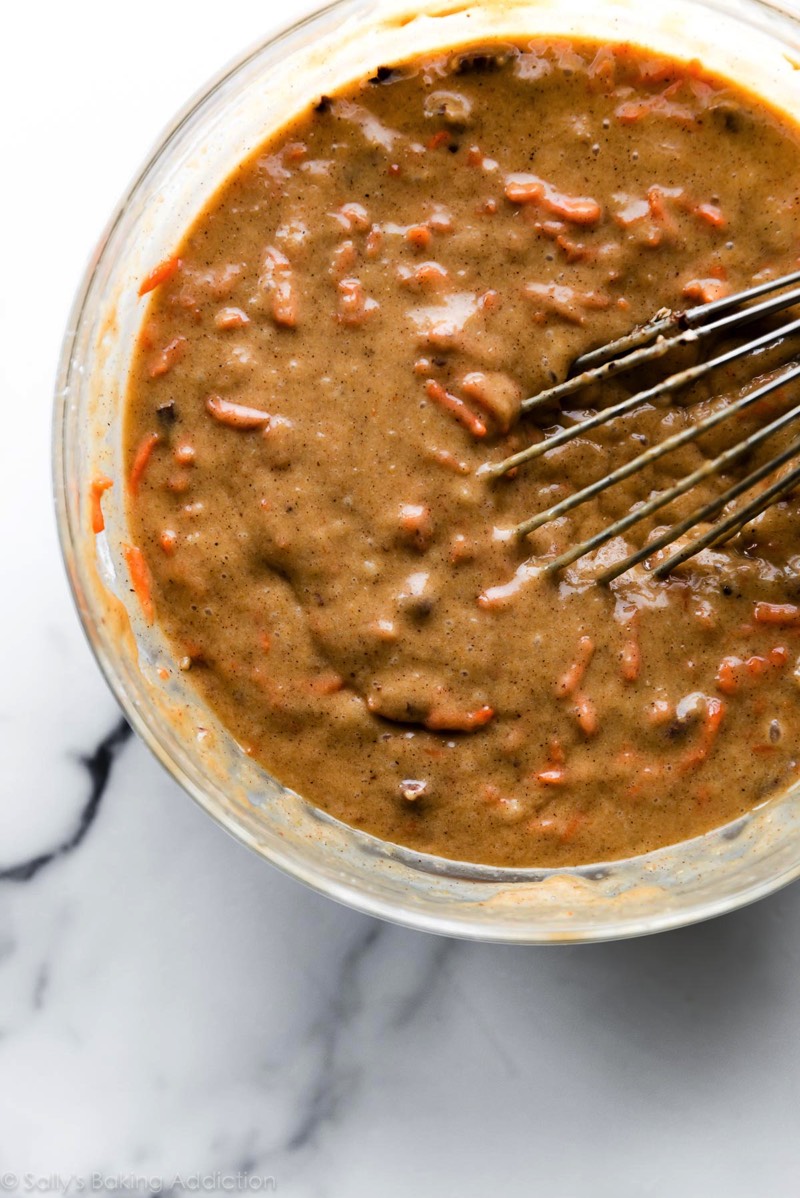 INSTRUCTIONS
HOW TO MAKE CREAM CHEESE FROSTING

This dreamy cream cheese frosting recipe can either be made by hand in a mixing bowl or in a stand mixer — you choose! Just be sure that both the cream cheese and butter are both room temperature. (And if you want your frosting to be super-smooth, I also recommend sifting the powdered sugar in advance.)

To make cream cheese frosting, simply stir the cream cheese and butter together with the vanilla until completely smooth. Then add in however much powdered sugar is needed to make the icing nice and firm. (You may need more/less powdered sugar than the recipe calls for.)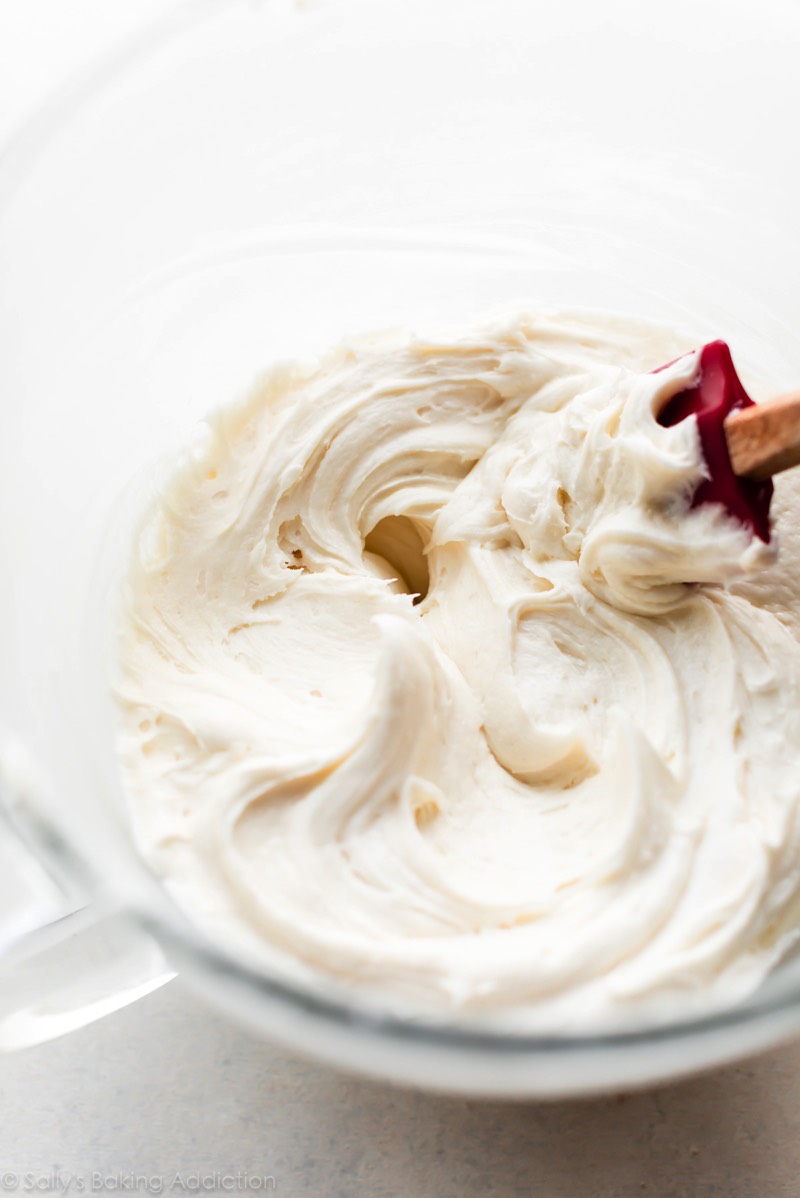 RESULT

The result is a sweet and soft cake full of flavor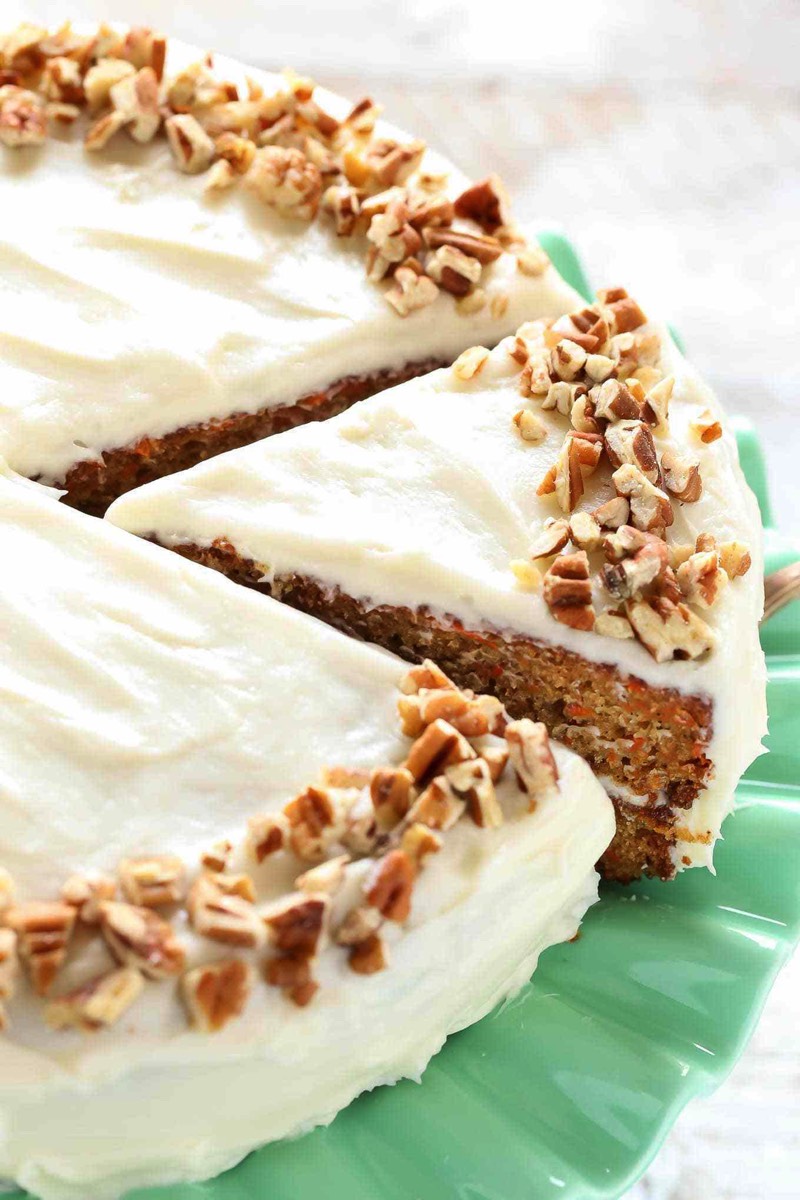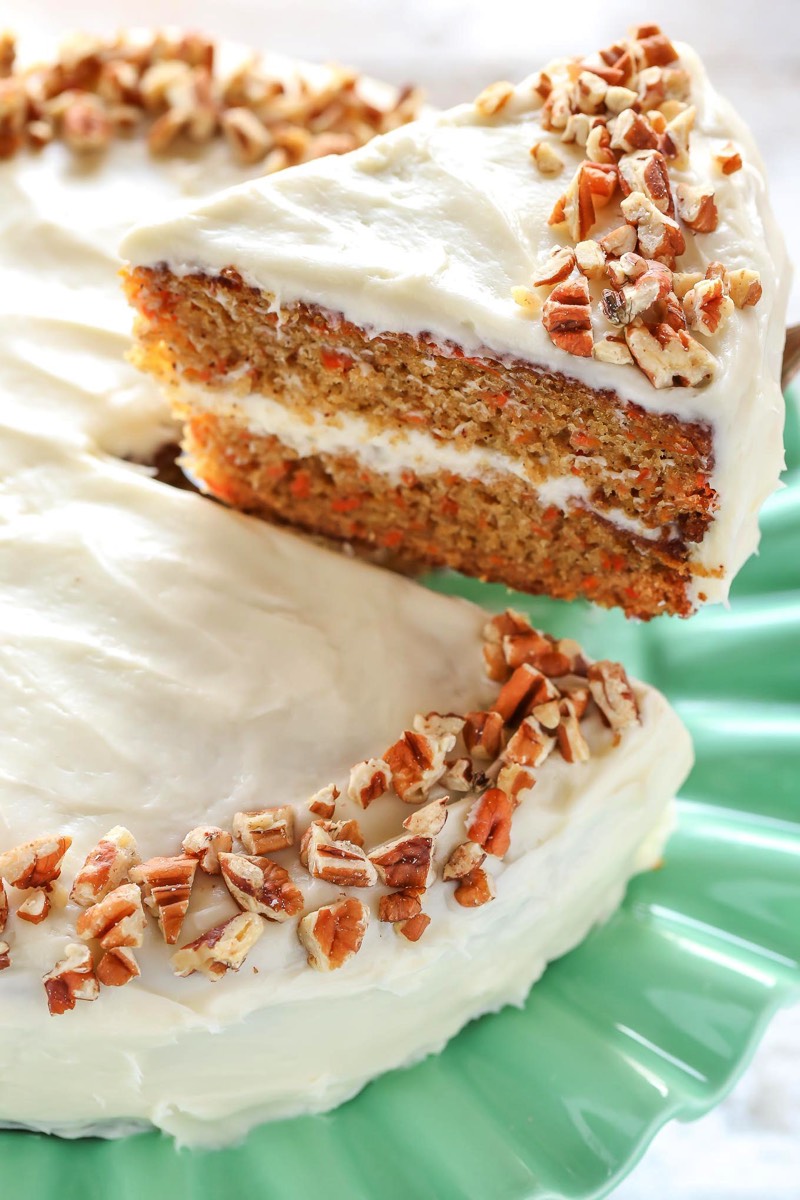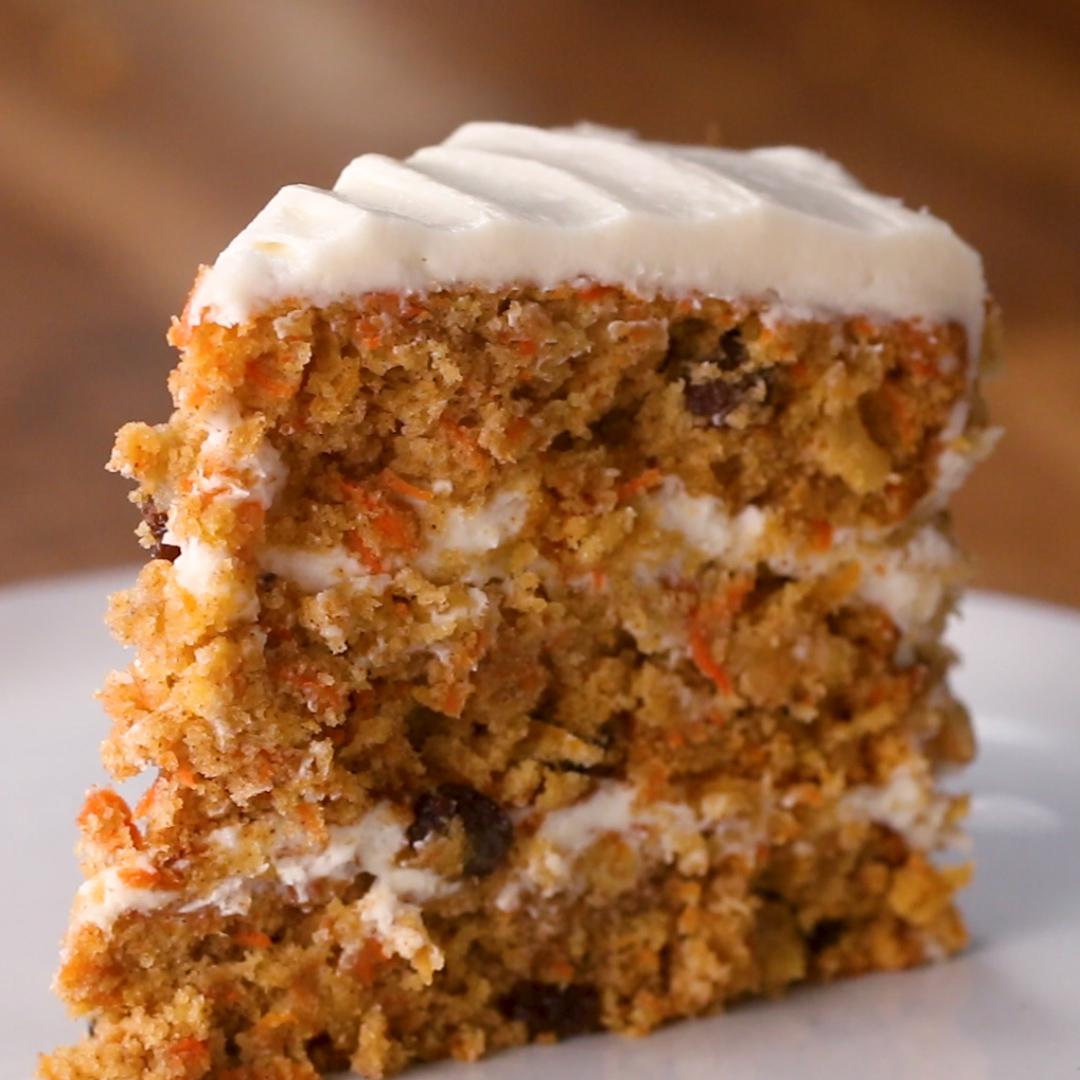 INSTRUCTIONS
CARROT CAKE VARIATIONS
If you would like to customize your carrot cake, feel free to:


Add nuts: Feel free to stir 1/2 cup chopped nuts (such as pecans, walnuts, pepitas or hazelnuts) into the batter, and/or sprinkle extras on top of the frosting.

Add raisins: You could also stir in up to 1/4 cup of raisins.

Add coconut: Or up to 1/4 cup of toasted shredded coconut.

Spice the frosting: If you would like a bit of extra flavor in the frosting itself, I recommend stirring 1-2 teaspoons ground cinnamon and 1/2 teaspoon ground ginger into the frosting.