Gnocchi alla Romana
A delicious, cheesy, and traditional Italian side dish!
Gnocchi alla romana has a slightly crispy outside and soft, buttery, cheesy texture in the inside. The semolina rounds hold their shape, but almost melt into each other. It is classic and elegant stick-to-your-ribs Italian comfort food.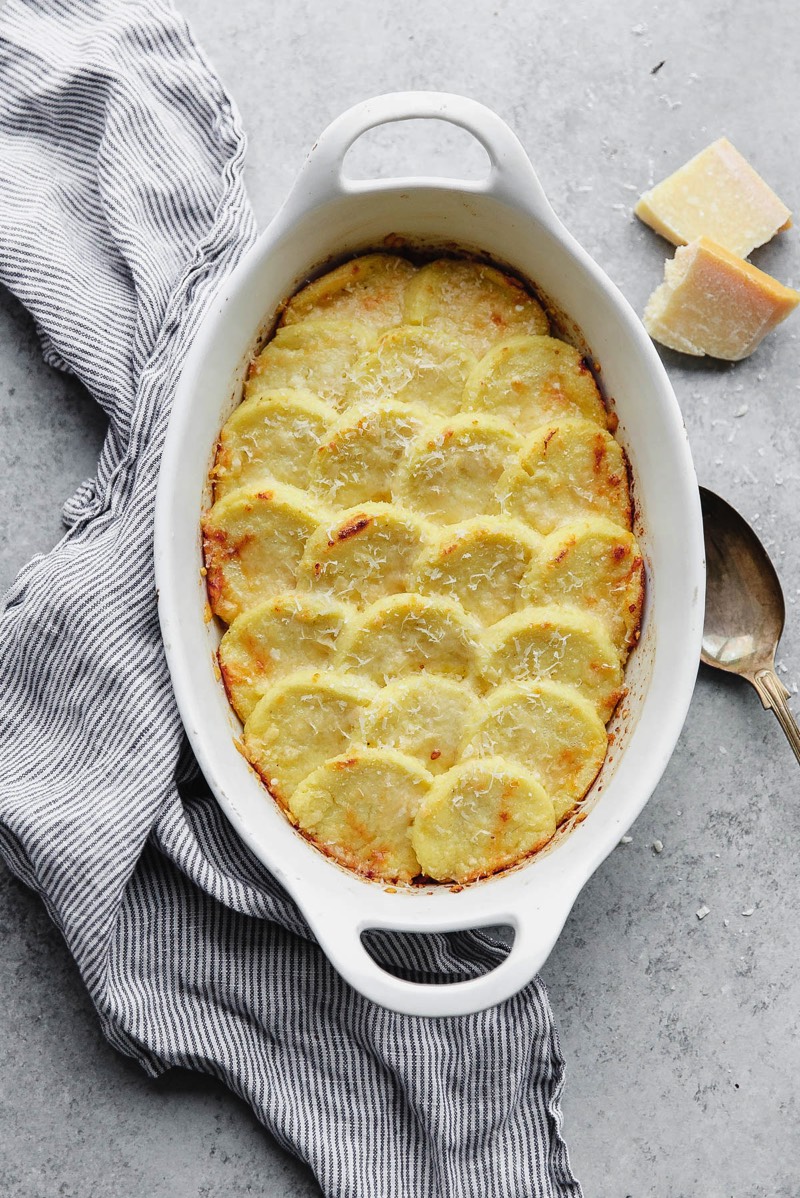 Gnocchi alla romana (sometimes referred to as semolina gnocchi) is made with semolina flour. Semolina is the coarse grind of durum wheat, a high-protein wheat variety that is used in traditional pasta making and other preparations. Semolina's high-protein properties provide pasta dough with strength, structure, and that signature al dente chewiness. It produces a heartier texture than can be achieved through all-purpose flour.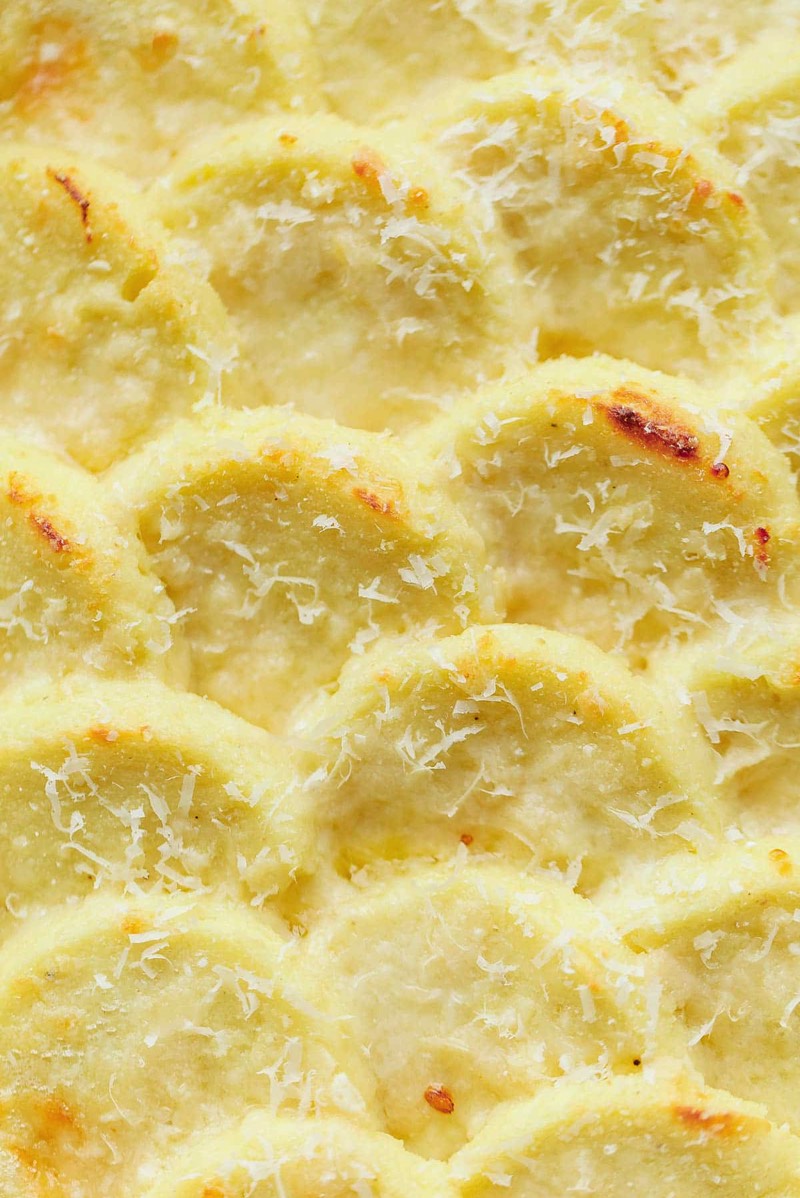 There are many regions that lay claim to the origins of gnocchi. While they are generally associated with northern Italy, the truth is that these dumplings are found all over the peninsula and in many diverse forms, made with a variety of base ingredients depending on where they come from: flour, corn meal, semolina, bread, chestnut flour, ricotta, or vegetables—from pumpkin to spinach to the classic potato.The word gnocchi is thought to come from nocca, which means knuckles, or from the Lombard word knohha, which means knot (such as wood knot) or walnut—all words that imply the small, tight, rounded shape of gnocchi that we know today.The most famous potato gnocchi that are known and loved world-wide date back to the sixteenth or, more likely, seventeenth century—well after Spanish explorers brought potatoes from South America and introduced them to Italian kitchens. Every region in Italy, especially in the north, has its own gnocchi variation and its own specific sauce or serving style.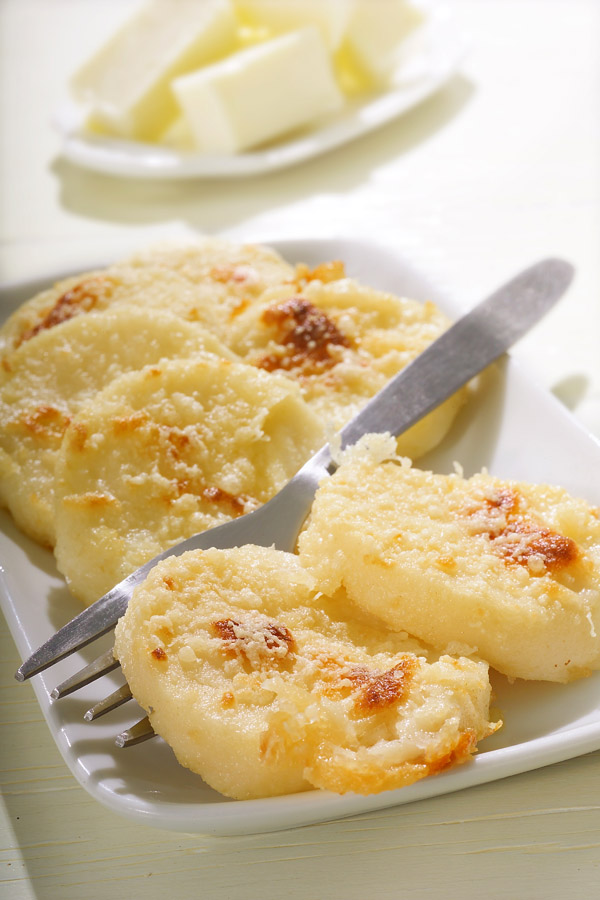 PREPARATION

If you've ever prepared traditional soft polenta, the cooking method for gnocchi alla romana is very similar to that process. Heating milk (2%, but whole milk also works!) just short of a boil in a large saucepan and then slowly pouring in the semolina flour.
This mixture cooks over low heat for approximately 15 to 20 minutes or until the mixture becomes very thick and just starts to pull away from the sides of the pan.
The active cooking on the stovetop requires an arm workout – you'll be stirring vigorously the entire time – but it is absolutely worth the effort. Once the semolina cooks and forms a thick, dough-like mass, stirring in butter, salt, lots of grated parmigiano cheese (please use the good stuff for this recipe), and lastly two large egg yolks. The protein and fat in the egg yolks provides the semolina gnocchi with additional structure and lends the final baked dish a rich, custard-like flavor.
The semolina mixture is spread into a thin layer on a half sheet pan, allowed to cool, and is cut into rounds using biscuit cutters. These semolina rounds are overlapped, layered, and placed in a greased baking dish, topped with more cheese and butter (yes, please), and popped into the oven until golden brown and bubbling. It's the stuff of dreams.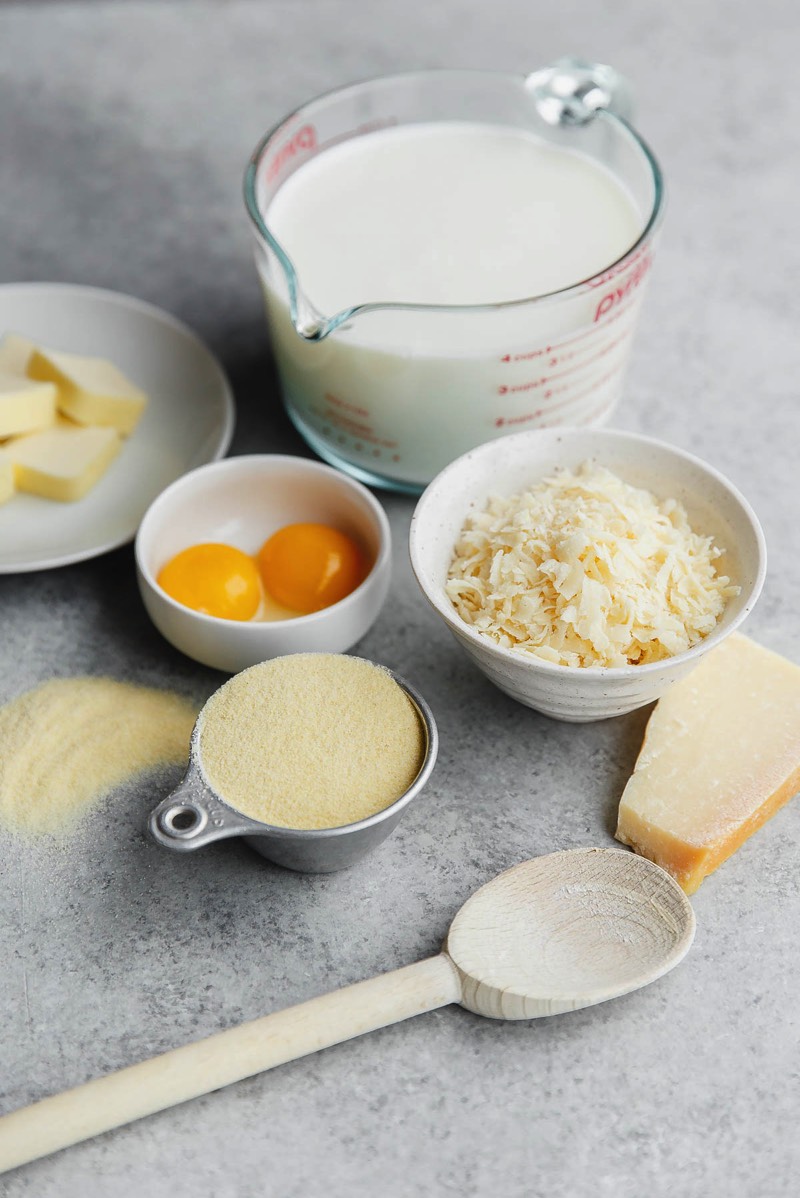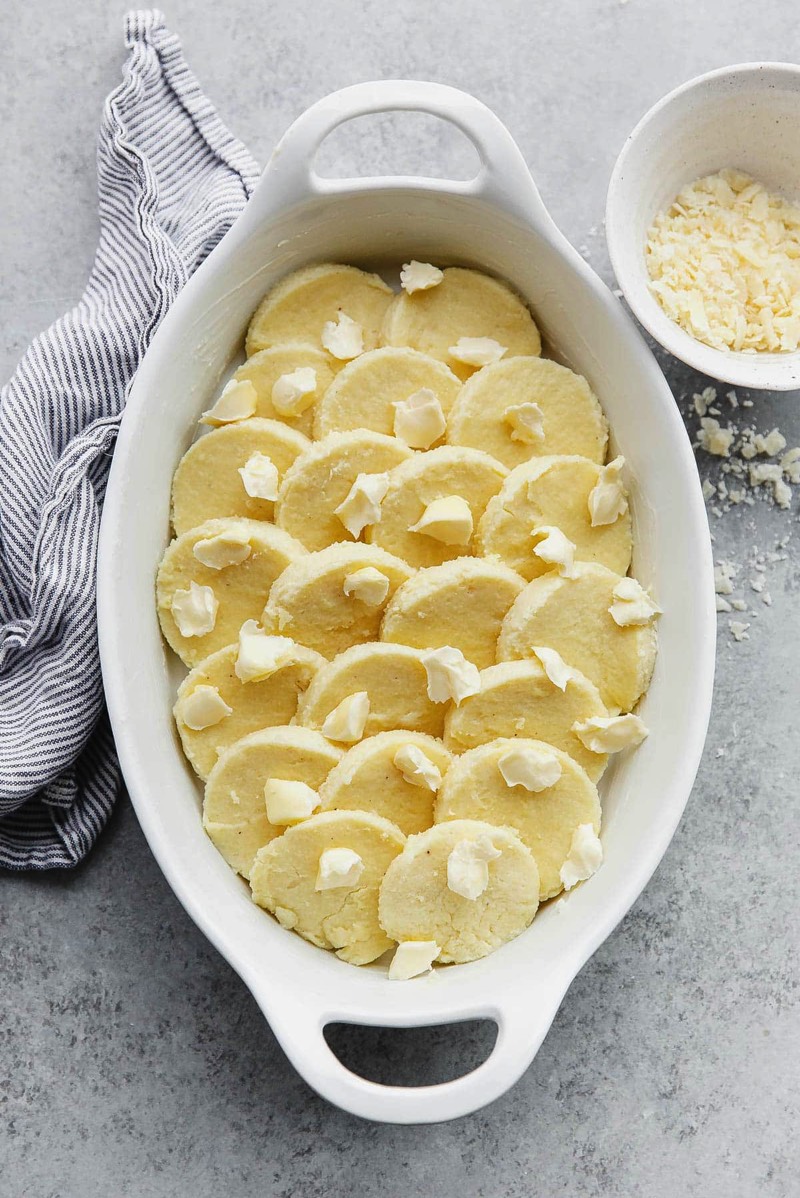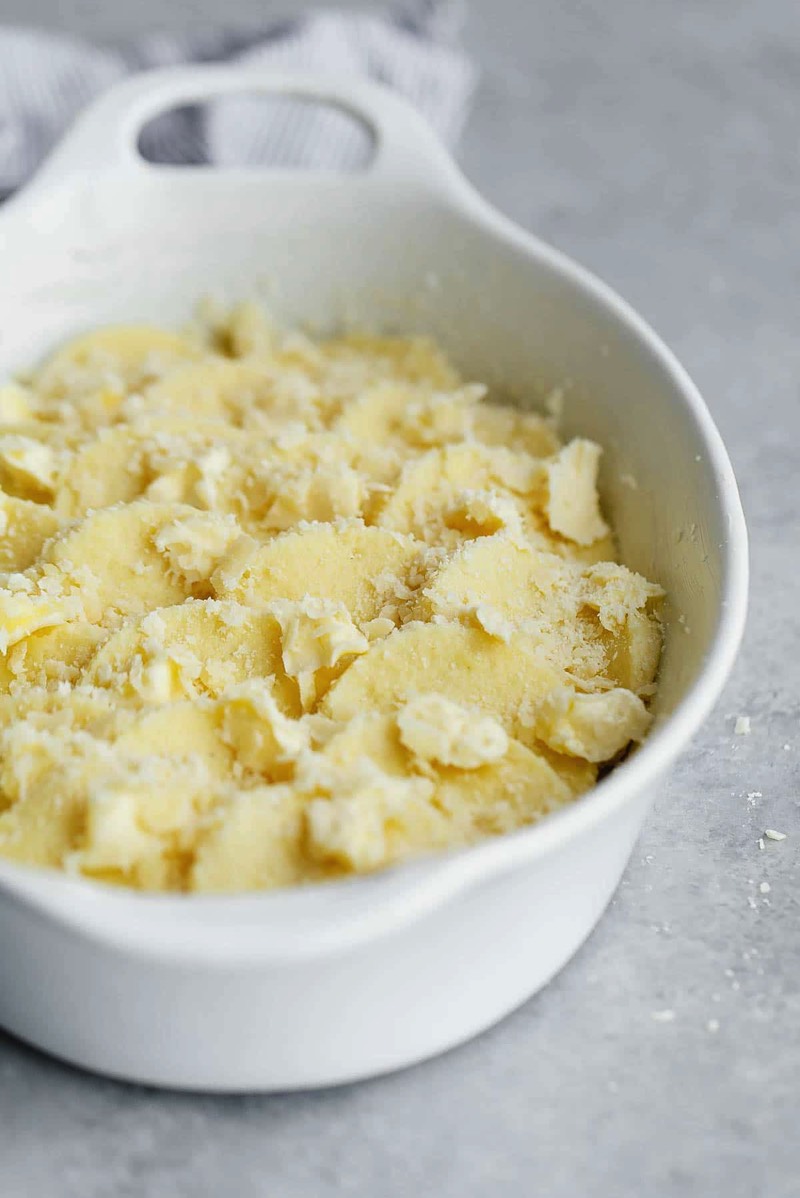 RESULT

A delicious, cheesy, and traditional Italian side dish!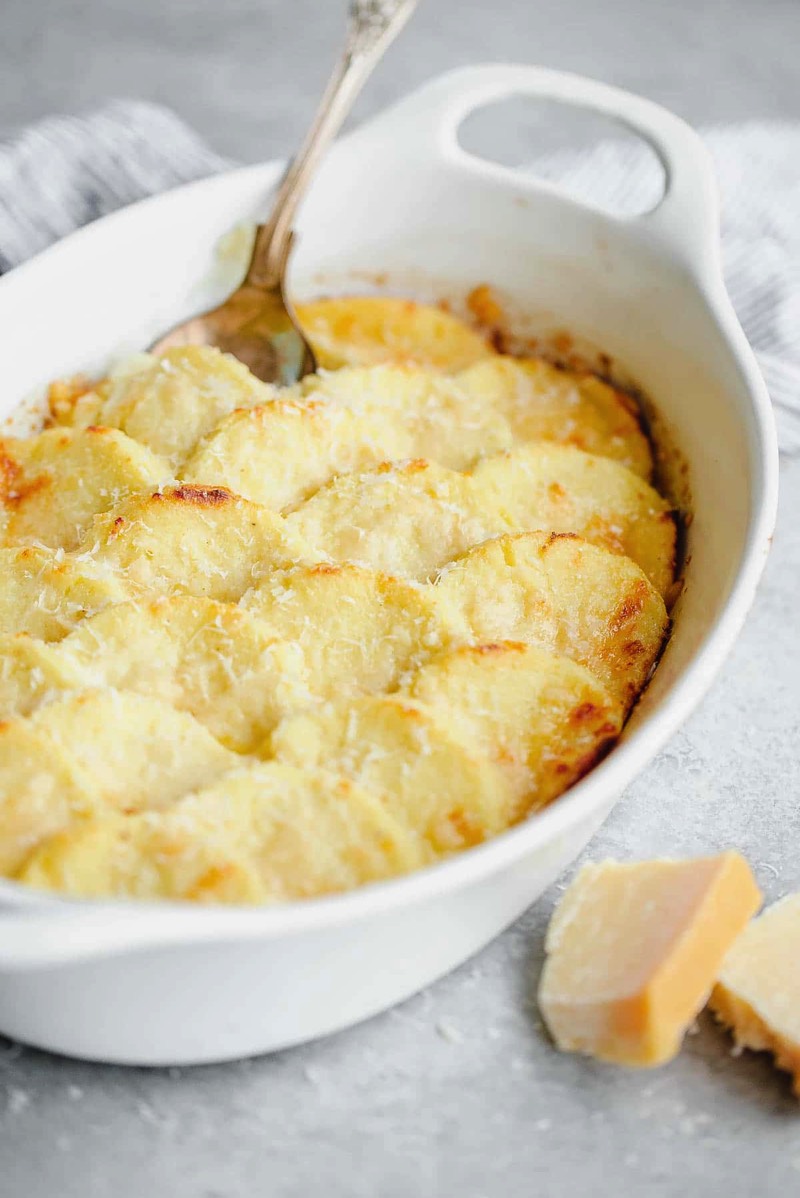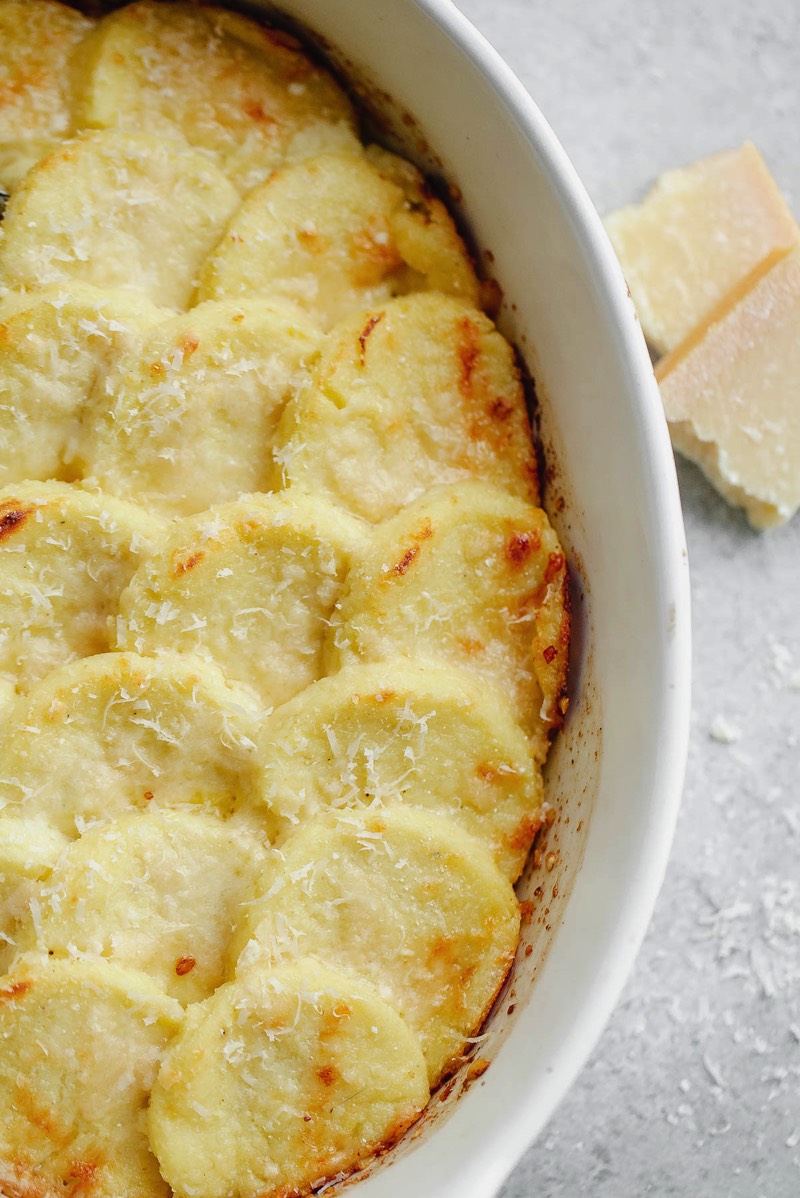 While you could certainly serve the gnocchi alla romana on it's own, serve it with warm tomato sauce, vegetables or salad (tossed with a simple lemon vinaigrette to help cut the richness). It can also be a side dish to traditional proteins.