Amatriciana:
The Iconic Pasta Dish of Amatrice, Lazio
Amatriciana is a classic pasta dish that originates from the small town of Amatrice in the Rieti district of the central Italian region of Lazio. Although it is a traditional dish from Amatrice, it has become a staple in Rome, where it is served in trattorias and restaurants all over the city.
Traditionally, Amatriciana is made with bucatini pasta, a long, thin pasta that resembles spaghetti but is hollow in the center. The sauce is made with San Marzano tomatoes, guanciale (cured pork jowl), pecorino cheese, and chili pepper flakes. The result is a flavorful, slightly spicy sauce that pairs perfectly with the al dente bucatini.
Despite its simple ingredients, Amatriciana has become a symbol of Italian cuisine and is loved by locals and tourists alike. Some say that the key to a great Amatriciana is in the quality of the ingredients, while others swear by a certain technique in cooking the guanciale.
Regardless of the variations, Amatriciana remains a beloved pasta dish that has stood the test of time and is a must-try for anyone visiting Italy.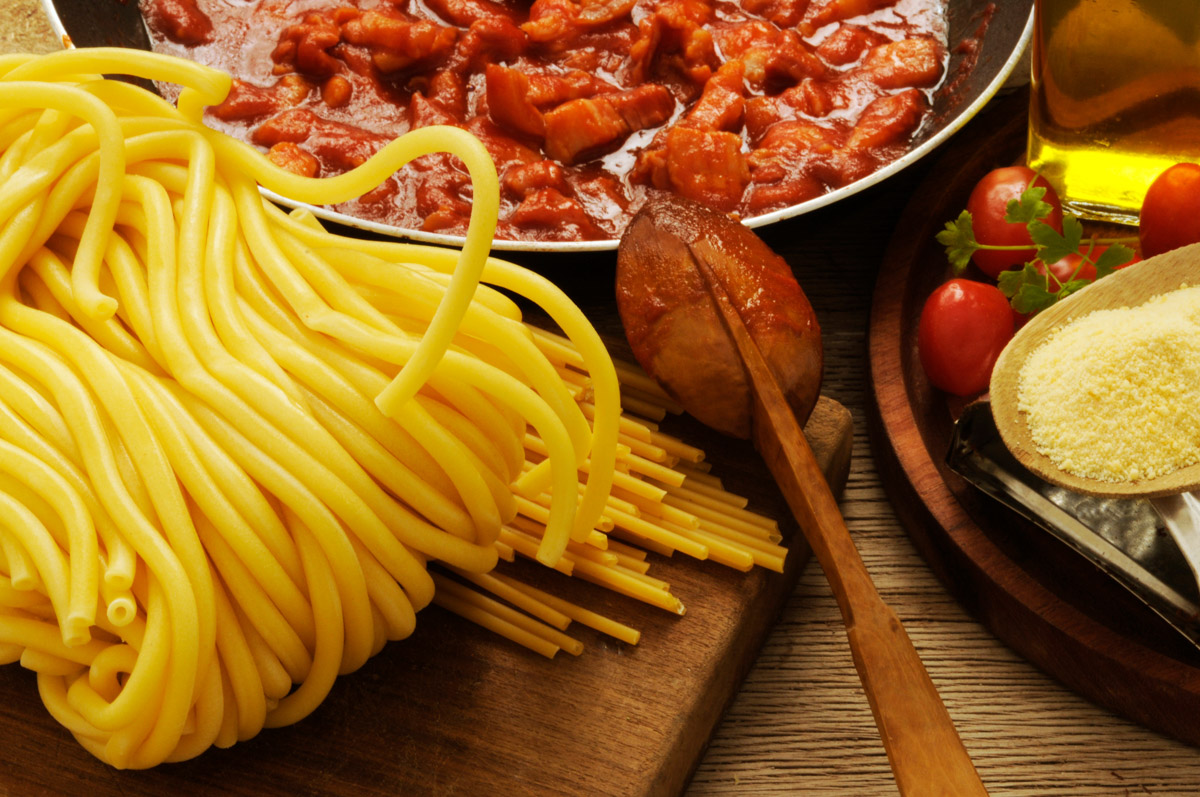 Here's a recipe for Amatriciana that serves four people:

Ingredients:

400g bucatini pasta

150g guanciale or pancetta, diced

400g canned crushed tomatoes

1/2 cup freshly grated Pecorino Romano cheese

1/2 teaspoon chili pepper flakes

Salt
Instructions:

Bring a large pot of salted water to a boil. Add bucatini and cook until al dente, following the package instructions.

While the pasta is cooking, heat a large skillet over medium heat. Add the diced guanciale or pancetta and cook until crispy and browned.

Add the canned crushed tomatoes to the skillet with the guanciale or pancetta. Season with chili pepper flakes and salt to taste.

Simmer the sauce for about 10-15 minutes, or until it has thickened slightly.

Once the pasta is cooked, reserve 1 cup of the pasta cooking water, then drain the pasta and add it to the skillet with the sauce.

Toss the pasta with the sauce until it is evenly coated. If the pasta seems too dry, add some of the reserved pasta cooking water a little at a time until it reaches the desired consistency.

Serve the pasta in individual bowls, garnished with freshly grated Pecorino Romano cheese.
Enjoy your delicious Amatriciana!