Burrata:
The Creamy Sensory Symphony of Cheese
Burrata is a metaphor for a heavenly experience, with its creamy symphony, explosion and silence at the same time, art, sensuality, and ludic pleasure. It is like entering into a sanctuary and feeling the opposite layers of pleasure over and over again.

Food is a powerful thing that can evoke tremendous sensory experiences. It is a universal experience that connects us all and reveals our personal stories, reflecting who we are as individuals. Cheese, one of the oldest foods of humanity, is an example of this, with its many different varieties and the stories they carry with them.
One such cheese is burrata, a unique and eccentric dairy delight that has enriched the international gastronomy field. Burrata is a very creamy cheese made with mozzarella, cow milk, cream, rennet, cultures, and salt. Its shiny white layer can be accompanied by green basil, a salad, a red juicy tomato, or any other artistic addition.
Burrata's making process involves curdling and stretching the cheese with bare hands, filling a pouch with scraps of mozzarella and a yellow heavy cream mixture, sealing it, and tying it up. This results in a ball of mozzarella with an original signature that consists of a creamy flavorful filling.
Food, and especially burrata, is a cultural marker and an eloquent speaker of its kind. It nourishes our spirits and rearranges our values, reflecting our personal stories and connecting us all through the universal experience of food.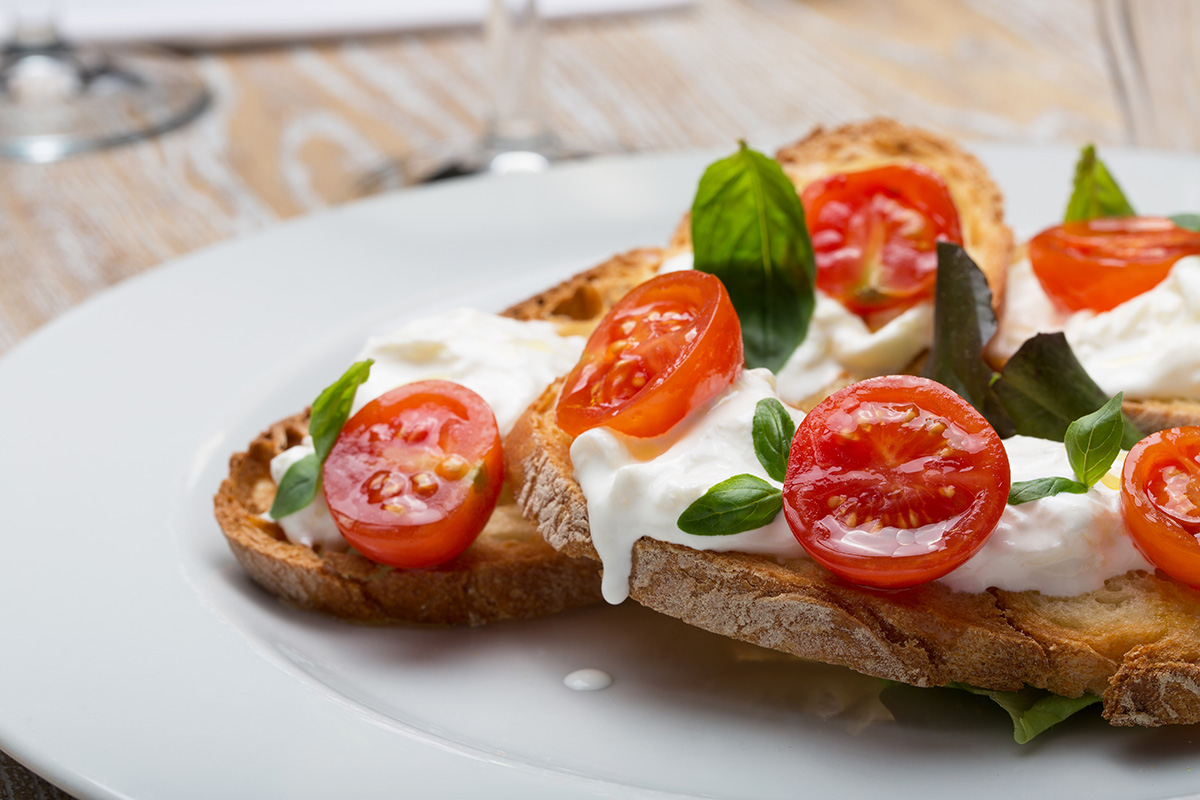 Bruschetta al Pomodoro con Burrata Recipe

Bruschetta al Pomodoro con Burrata is a delicious and easy appetizer that is perfect for any occasion. The combination of fresh tomatoes, garlic, basil, and creamy burrata cheese on top of a crispy toasted bread slice creates a mouthwatering flavor that will impress your guests.
Ingredients:

1 loaf of crusty Italian bread

4 medium-sized ripe tomatoes, chopped

3 garlic cloves, minced

8-10 fresh basil leaves, chopped

1/4 cup of extra-virgin olive oil

1/2 teaspoon of salt

1/4 teaspoon of freshly ground black pepper

1 ball of burrata cheese
Instructions:

Preheat the oven to 400°F.

Cut the Italian bread into 1/2 inch thick slices and brush them with olive oil. Place them on a baking sheet and bake in the oven for 5-7 minutes or until they become golden brown and crispy.

In a bowl, combine the chopped tomatoes, minced garlic, chopped basil leaves, extra-virgin olive oil, salt, and black pepper. Mix well.

Take the toasted bread slices out of the oven and let them cool for a few minutes.

Cut the burrata cheese into thin slices.

Spoon the tomato mixture over each slice of toasted bread.

Top each slice with a slice of burrata cheese.

Drizzle some extra-virgin olive oil over the top and sprinkle some fresh chopped basil leaves.

Serve immediately and enjoy!
This recipe makes about 8-10 bruschetta slices. You can easily adjust the recipe according to the number of guests you are serving. This bruschetta is best served fresh and warm, so be sure to make it just before serving.