Papas Rellenas
A delight of the Peruvian gastronomy
Seasoned beef stuffed inside a ball of mashed potatoes. Breaded and fried until golden brown and crispy all around.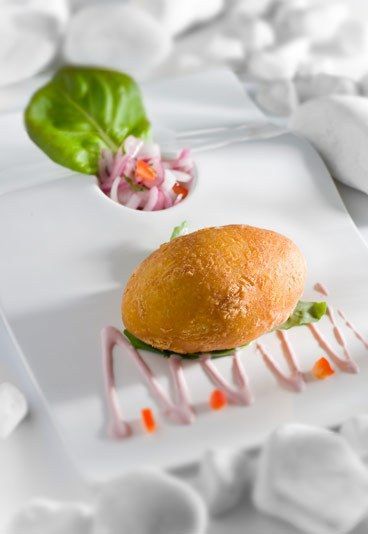 Papas rellenas (stuffed potatoes) are the most popular type of croquettes in Latin American, specially in Peru and other countries such as Chile, the Dominican Republic, Puerto Rico, Cuba, Colombia, and the Caribbean. The first recorded Latin American recipes were printed in the late 19th century, during a time when French cuisine (among others, e.g. Italian) was influencing those of Latin America.
Papas rellenas are no other thing than mashed potato stuffed with minced beef, olives, and hard-boiled egg. When all is done, fried until golden from outside. It's satisfying, bursting with flavor, and you can have it as an appetizer or entrée, hot or cold, day or night.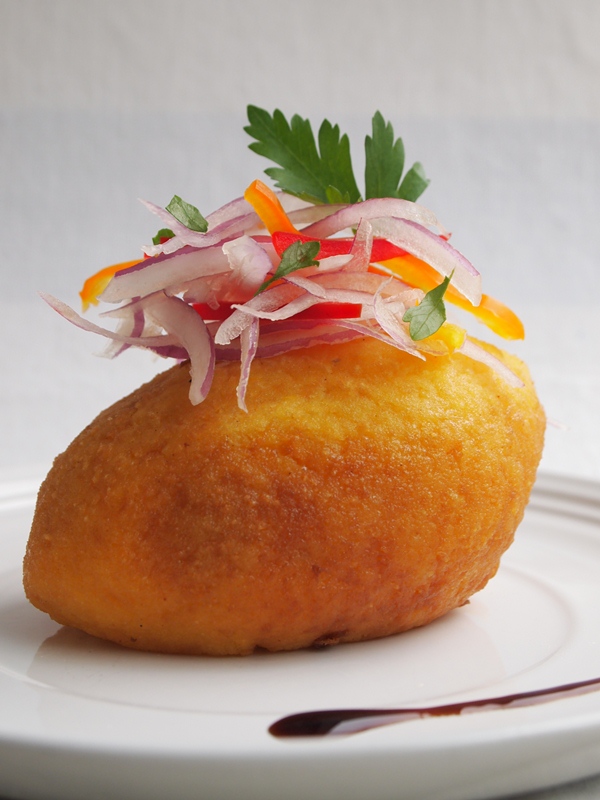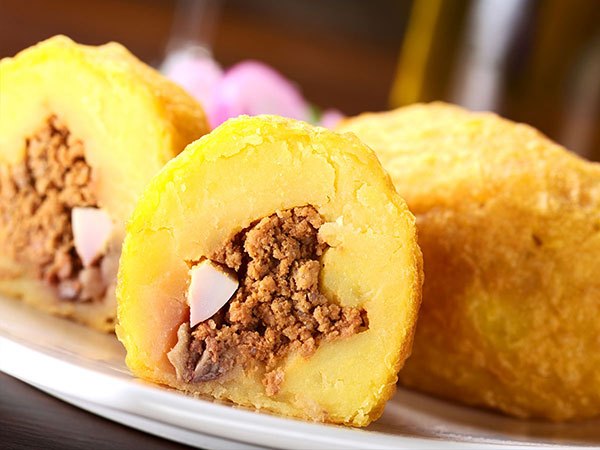 History


The story of the potato started around 350 million years ago. It slowly evolved into its current form in the South American Andean highlands between Peru and Bolivia. Human settlers reached that part of our world around 15 thousand years ago and managed to domesticate wild potato around 8 millennia BC. From that point on, potato slowly started its journey across the continent, but it received great attention in the 1500s when first Spanish conquistadors started exploring beyond the coasts of South America, especially after 1530s when they searched for gold in Peru.
According to history, in 1879, in the middle of The War of the Pacific (a war between Chile and a Bolivian–Peruvian alliance from 1879 to 1884) soldiers had to walk and travel through quite extensive areas - along roads far from cities and towns. In these journeys, the soldiers had to carry their food but there were no bags or how to refrigerate, therefore, with great ingenuity, they cooked beef or other animals (minced and half-ground), seasoned it and made a kind of pasta with the parboiled potatoes, they placed the meat inside and then they fried it so that it takes consistency. All of that was wrapped in cloth like big scarves, that way when lunchtime came, they would take out these wrappers and eat them.
Preparation


Cook the potatoes in a saucepan with boiling water until they are tender (around 20 minutes, but it depends on the potato). Peel them while hot, as fast as you can, mash them, add salt, pepper a raw egg, and set aside.
Sauté onion and garlic, finely chopped, in a wide saucepan with a drizzle of olive oil until it begins to brown. Add the seasoned and meat. Sauté until it changes color. Add the olives, eggs, and raisins, and fry until golden brown
Divide the potato dough into fist-sized portions. Open a hole in the center, fill with the farce of minced meat and close it again, giving it a potato shape
Go through the flour and fry in hot oil.