A typical Neapolitan dish traditionally eaten at Easter, casatiello is pure poetry.
The Casatiello Napoletano (Easter Bread from Naples) is a bakery product of the Neapolitan culinary tradition, with ancient origins. With its filling rich in cheese and sausages, it was a special dish, which was prepared only during celebrations, required a long leavening, and was cooked in a wood-fired oven. Over time it has become one of the symbolic dishes of Easter Week in the Campania region.
This can be baked and presented in various ways, but the ring both looks great and has some nice symbolism. The appearance recalls the symbolism of the Passion and Resurrection of Christ. The circular shape represents the crown of thorns and the eggs caged by a cross are the symbols of rebirth. There is no single Casatiello recipe, but many variations depending on the Campania region, and from family to family so that on Easter Monday you can also taste ten different ones in the same picnic. In addition to the rustic preparation, there is also the sweet version of Casatiello, composed of eggs, sugar, lard, and glaze, and decorated on the surface with diavulilli (Neapolitan for «colored sprinkles»): this variant is common in the beautiful city of Caserta and the Vesuvian coastal area.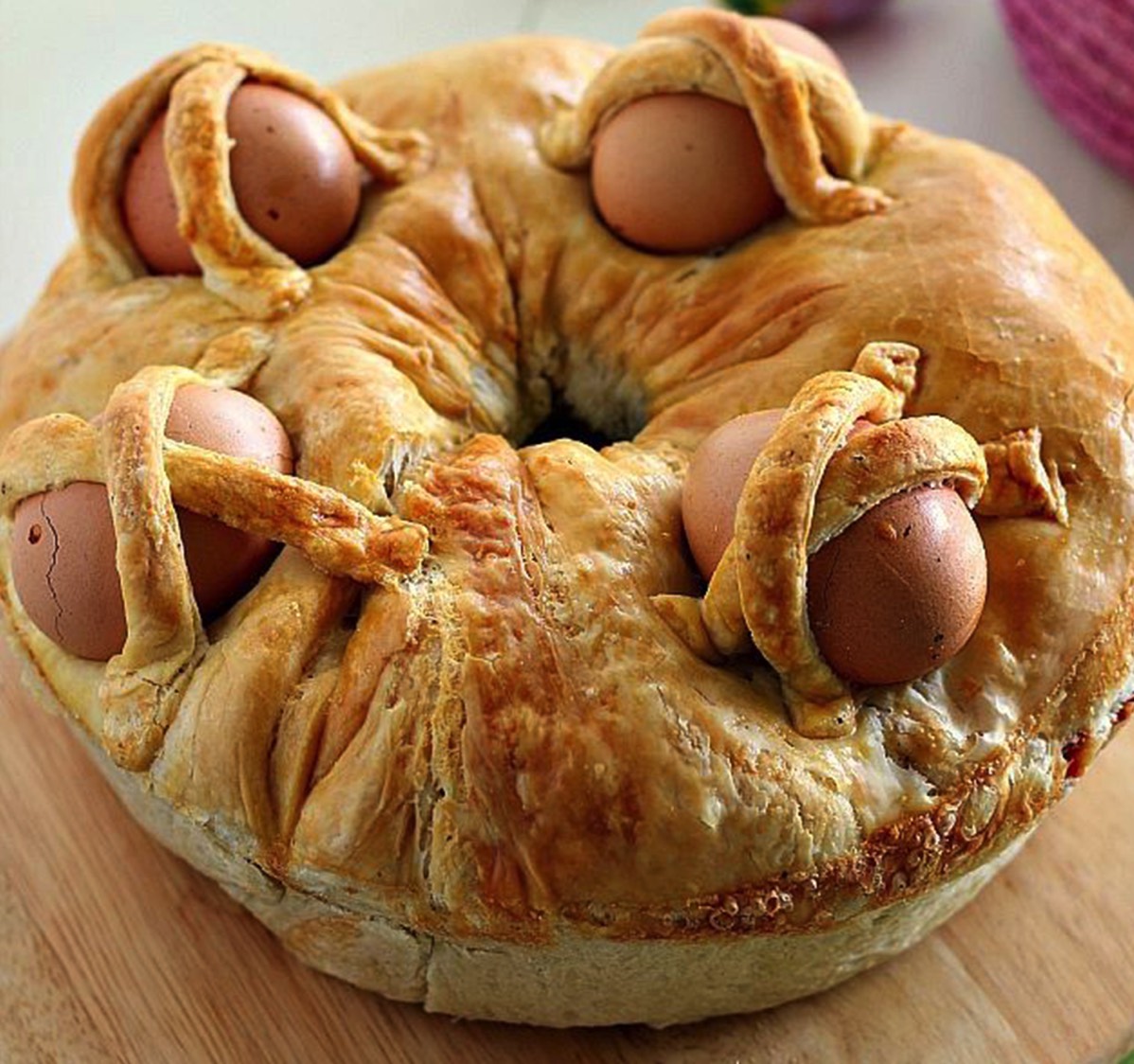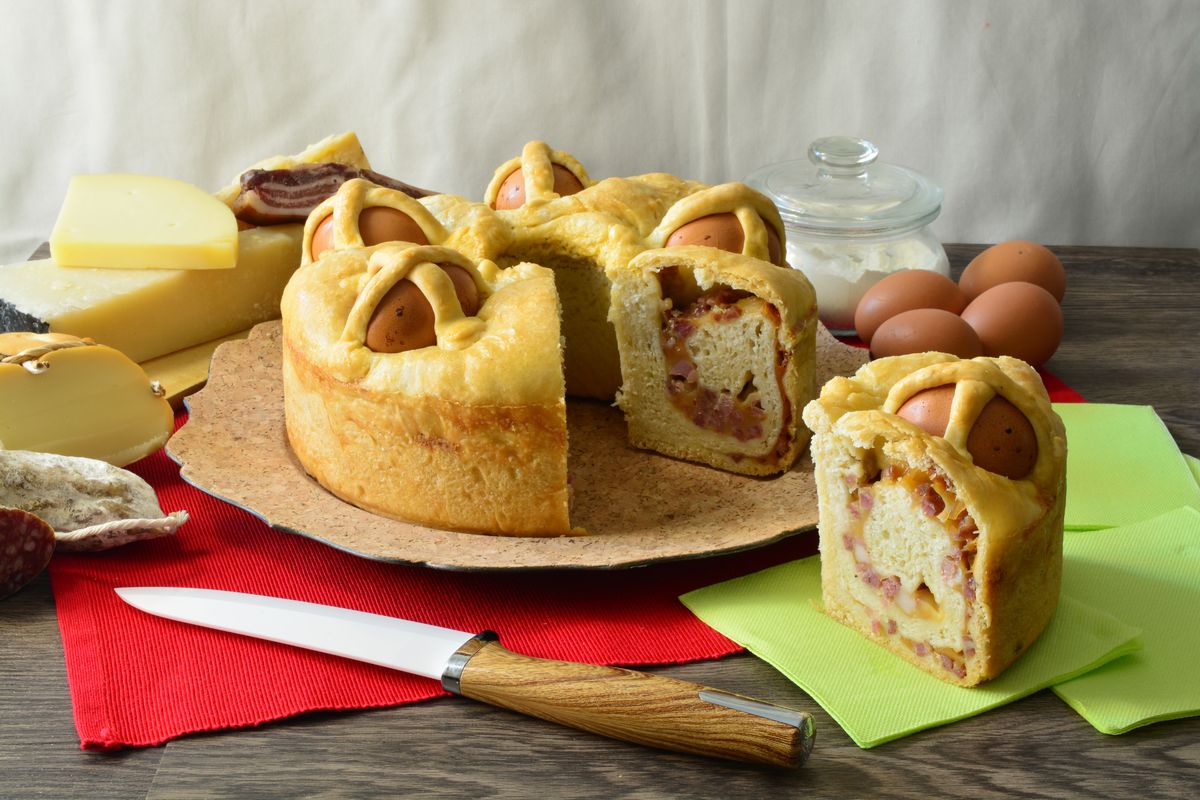 Like any traditional recipe, there are different versions: such as the Casatiello sfogliato, the one prepared with natural yeast, there is also a version of Casatiello sweet. Then there are many variations, such as the Casatielli mignon and similar preparations, one of these is the Neapolitan Torta, another rustic typical of Neapolitan Easter; similar to casatiello in the dough but in this case, the eggs are already hard-boiled in the filling.
This is a very simple preparation; that you can also knead by hand, without the help of the mixer. Just combine the ingredients as indicated in the procedure and string the dough with the lard according to the ancient recipe; indispensable ingredient, which gives a unique softness to casatiello. Once it has risen, just roll out the dough thinly, then stuff it with cheeses and salami, then roll it up and put it in the pan, when the eggs are added and tied on top! The secret that will guarantee you a soft, digestible, and super greedy casatiello for days is to use very little yeast, make a small pre-dough and choose cold cuts for the filling of excellent quality. Great cold, when all the aromas and flavors are cooled and the slices are cut precisely. Ideal not only for Easter.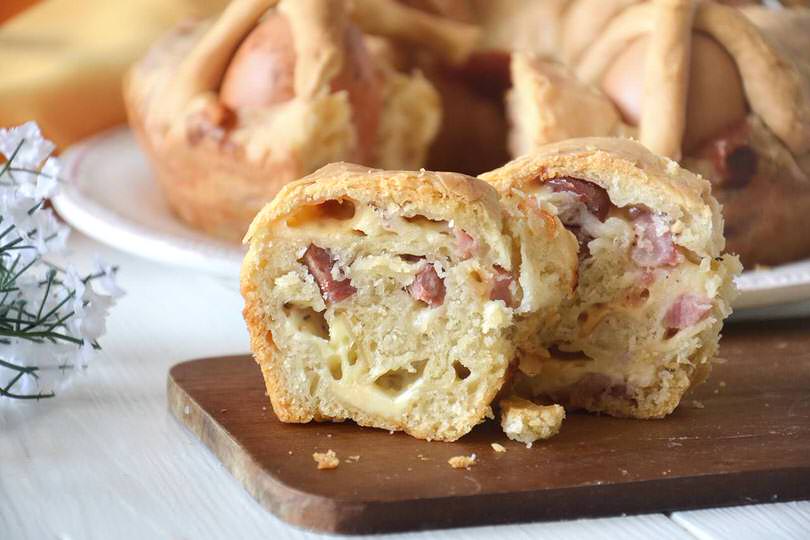 Ingredients
1 ½ ounces fresh yeast

1 ½ cups warm water, divided

5 

⅓

cups all-purpose flour

1 teaspoon salt

1 cup lard, at room temperature, divided

2 tablespoons grated Parmesan cheese

1 pinch freshly ground black pepper

2 tablespoons grated pecorino Romano cheese

1 (4 ounce) package salami chunks

6 eggs
Directions
Step 1

Dissolve yeast in 1/2 cup warm water.


Step 2

Sift flour and salt onto a clean work surface; make a well in the center. Add yeast mixture and 1/4 cup lard to the well. Mix, adding remaining 1 cup water gradually, until dough comes together. Knead until dough is soft and smooth, about 10 minutes.


Step 3

Transfer dough to an oiled bowl. Cover with a clean, damp cloth. Let rise in a warm place until doubled, about 90 minutes.


Step 4

Place dough back on the work surface. Punch gently to deflate; roll into a big rectangle. Brush 1/4 cup lard on top; cover with Parmesan cheese and pepper. Fold dough in half to make a smaller rectangle. Brush 1/4 cup lard on top; cover with pecorino Romano cheese and pepper.


Step 5

Fold dough again into a smaller rectangle. Brush remaining 1/4 cup lard on top; cover with salami chunks. Cut off a small portion of the dough; reserve.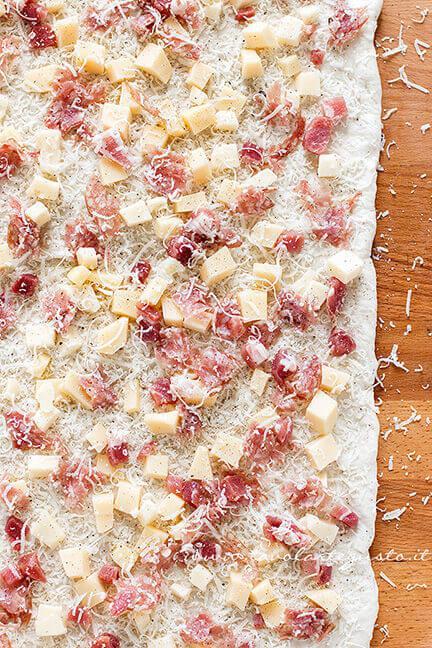 Step 6

Roll dough into a long cylinder. Place cylinder a grease ring cake mold. Cover with a damp cloth. Let rise in a warm place until more than doubled in volume, about 3 hours.


Step 7

Preheat oven to 325 degrees F (165 degrees C).


Step 8

Tuck whole eggs into the ring of dough at even intervals. Divide reserved dough into 12 pieces; roll into small ropes. Lay 2 ropes in a cross shape over each egg to hold them in place.


Step 9

Bake in the preheated oven until golden, about 1 hour. Let cool before slicing.